Since my discovery of my neighbors recipe for Quick and Easy Pizza Crust we have been enjoying fresh homemade pizza once a week. It is inexpensive and delicious. Best of  all, quick and easy. It's what I love most during a busy work, school, church week.
Now, it would stand to reason that a quick and easy pizza dough deserves a quick and easy pizza sauce. Here is the recipe that I use. It makes plenty and unused sauce stores well in the fridge for future use.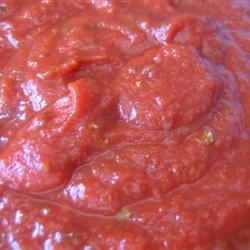 1 (15 ounce) can tomato sauce
1 (6 ounce) can tomato paste
1 tablespoon ground oregano
1 1/2 teaspoons dried minced garlic
1 teaspoon ground paprika
In a medium bowl, Mix together tomato sauce and tomato paste until smooth. Stir in oregano, garlic and paprika.
(Original recipe can be found here.)