Soup is perfect for cold wintery days. More of those are ahead of us. This recipe is another family favorite. Today, I used leftover turkey instead of chicken. I have used a rotisserie chicken from the grocery store as well.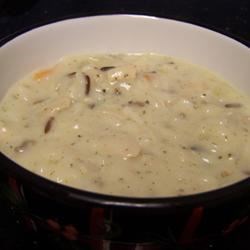 (Photo from Allrecipes.com)
4 cups chicken broth
2 cups water
2 cooked, boneless chicken breast halves, shredded
1 (4.5 ounce) package quick cooking long grain and wild rice with seasoning packet
1/2 teaspoon salt
1/2 teaspoon ground black pepper
3/4 cup all-purpose flour
1/2 cup butter
2 cups milk
In a large pot over medium heat, combine broth, water and chicken. Bring just to boiling, then stir in rice, reserving seasoning packet. Cover and remove from heat.
In a small bowl, combine salt, pepper and flour. In a medium saucepan over medium heat, melt butter. Stir in contents of seasoning packet until mixture is bubbly. Reduce heat to low, then stir in flour mixture by tablespoons, to form a roux. Whisk in milk, a little at a time, until fully incorporated and smooth. Cook until thickened, 5 minutes.  (I prepare this in the microwave.)
Stir cream mixture into broth and rice. Cook over medium heat until heated through, 10 to 15 minutes.
(Original recipe is HERE)