Many years ago my mother gave me a cookbook she so often used as I was growing up: The first edition of the Betty Crocker's Cooky Book (1963). This book is older than I am, but full of wonderful cookie recipes that were enjoyed by my bother and me as we were growing up.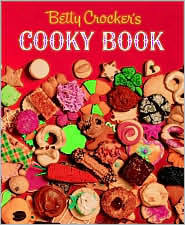 One favorite, and now a favorite of my oldest daughter is this recipe for Snickerdoodles:
1 cup shortening (part butter or margarine)
1 1/2 cups sugar
2 eggs
2 3/4  cups flour
2 tsp cream of tartar
1 tsp soda
1/4 tsp salt
2 tbsp sugar
2 tsp cinnamon
Heat oven to 400°. Mix shortening, 1-1/2 cups sugar and eggs thoroughly. Measure flour by dipping method or by sifting. Blend flour, cream of tartar, soda and salt; stir into creamed mixture. Shape dough into 1" balls. Roll in mixture of 2 tbsp sugar and cinnamon. Place 2" apart on ungreased baking sheet. Bake 8-10 minutes.
These cookies puff up at first, then flatten out.
I just made these again and sent them off with my daughter for her road trip. My only mistake… not keeping a few here for the rest of us.